Charlie's Quest For Justice
Justice . Equality . Trust
Charlie's Story
Charles Malouff (Charlie) – Brief History – 1975 – 2019
Charlie grew up in a military family and then after graduation in 1975, joined the U.S. Air Force and served in Security Police Law Enforcement for seven years.  In 1979, he was one of three USAF Security Policemen to be commissioned as a Texas Peace Officer.  In 1982, he left the Air Force and joined civilian law enforcement, where he worked in San Antonio, Central Texas, and Colorado.  Charlie has also worked in an undercover capacity, and on the Joint Terrorism Task Force; eventually retiring as the Chief of Police of Hico, Texas.
Around 1998, while he was serving in civilian law enforcement, Charlie decided to join the Coast Guard Reserve to finish out his military retirement. As a reservist, the Coast Guard duties would only be one weekend a month and two weeks a year for training; however, due to the events of September 11, 2001, he was called to full-time Active Duty with the Coast Guard, where over the next four years, he had multiple recalls to complete Title 10 Active Duty deployments. On his scheduled days off, Charlie was one of many law enforcement officers who were authorized to go back and work with their respective departments because their absences caused lowered manning levels. Charlie spent 20 years as a Law Enforcement Trainer, and on those days off from the Coast Guard, he was working undercover and or engaged in law enforcement training.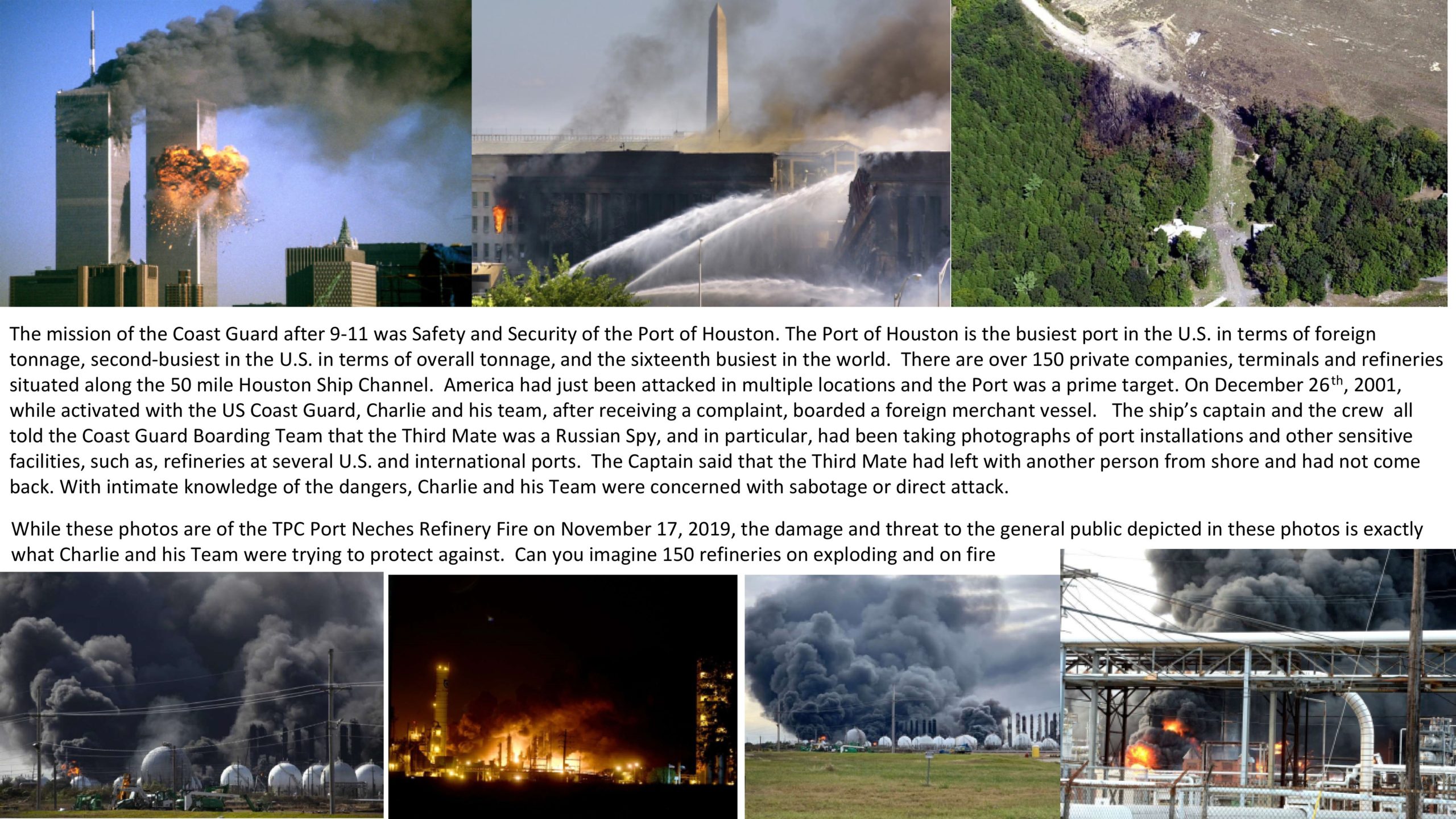 In 2001, he was actively engaged in SWAT Paramedic Training, and as a result of the events of 9/11, flash-bangs and other training material had to be transported from his police department to the Cypress Creek Advanced Tactical Team, which was also part of SWAT Paramedics for the Houston FBI.  This was done in accordance with Texas Law, and the inherent authority of the manufacturer of the flash bangs, and the city where he was employed undercover, and the US Coast Guard.
On December 26th, 2001, while activated with the US Coast Guard, Charlie and his team boarded a foreign merchant vessel at the Port of Houston, Texas.  The ship's captain and the crew all told the Coast Guard boarding team that the third mate was a Russian spy, and in particular had been taking photographs of port installations and other sensitive facilities such as refineries at several U.S. and international ports.  The Captain said that the third mate had left with another person from shore, and had not come back.
The ship's Captain and the first mate, who is also Russian, offered to help and gave the Coast Guard personnel access to the suspicious third mate's cabin.  There, they found both a very "high tech camera" and a strange "laptop".  The first mate was able to access the opened laptop, where they discovered approximately 1000 high-resolution photos of U.S. and International port installations. The ship's Captain asked if the Coast Guard Boarding Team wanted any copies of the pictures that were on the device, and the first mate then copied the Port of Huston photos onto a compact disk (CD) for the Coast Guard. As the Coast Guard was not authorized to investigate on land at that time, Charlie's superiors instructed the Coast Guard team to turn the information over to the local FBI office.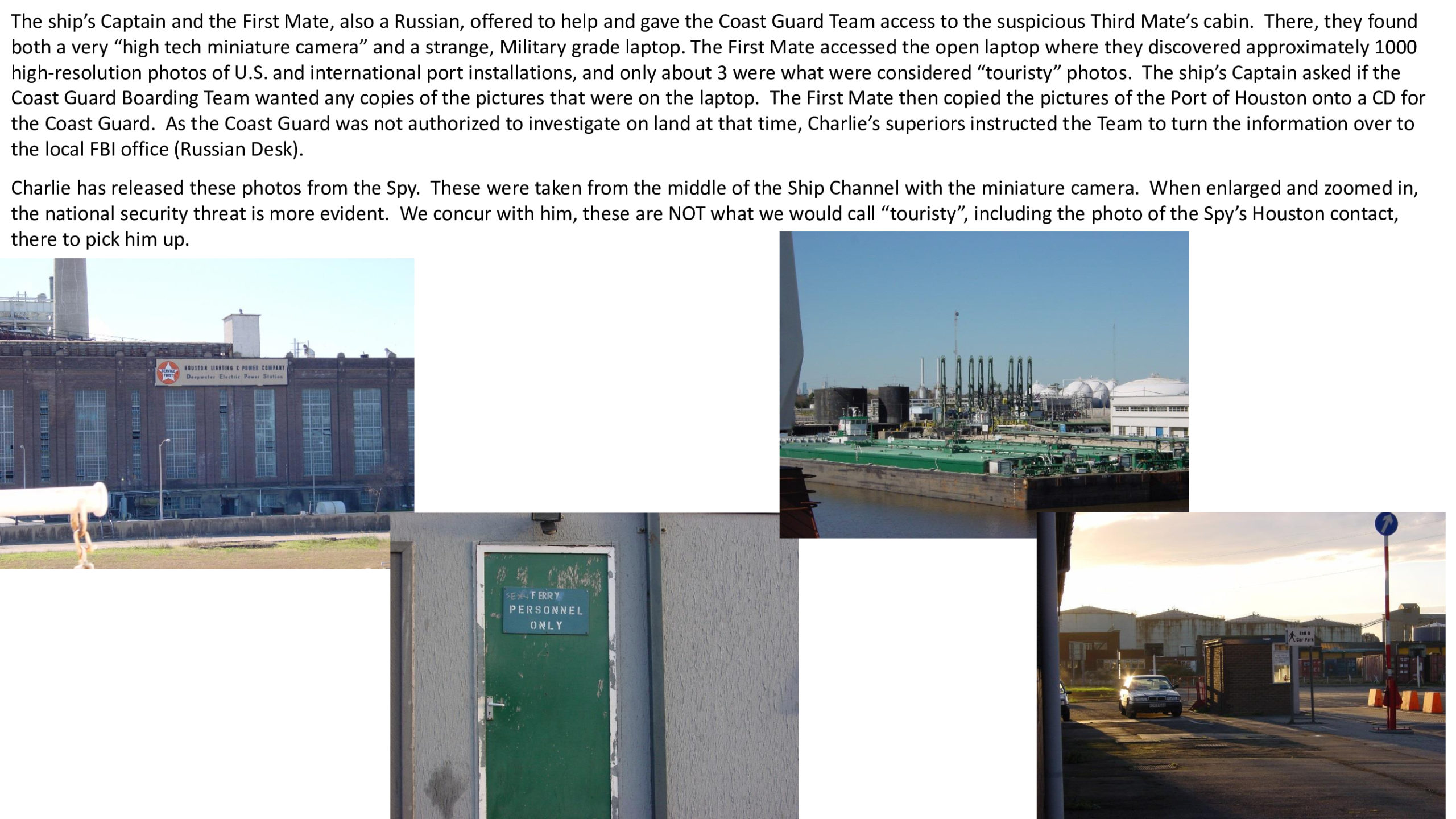 Several months later, Attorney General John Ashcroft elevated the public threat to ORANGE, citing a "credible threat to the Port of Pasadena".  The Coast Guard was anticipating a Congressional Investigation as to why the Coast Guard let a Russian Spy run loose in the Houston Ship Channel.  Charlie and a superior went back to the FBI, and found out the FBI had done nothing to follow up on the evidence and information they were provided by the Coast Guard Boarding Team.  Words were exchanged and the Coast Guard made it clear that if they were to catch any flack, from Congress, they would not hold back on addressing the FBI's inaction.
During this time frame, unbeknownst to anyone, the Paramedic Team leader, Gene Williams, illegally took flash bangs that were designated for training. He  hosted a bachelor party for the head of Emergency Medical System (EMS),  and decided to play a prank on the bachelor.  Using a flash bang that he had taken from training, he tossed the flash bang down the steps of the house. The bachelor stepped on the flash bang as it detonated, resulting in a severe injury to the man's foot causing him to lose most of his heel.  During these events Charlie was nowhere NEAR and had NOTHING to do with the taking of and using the flash bangs.  Williams was indicted and prosecuted.
The FBI and the Alcohol, Tobacco, and Firearms (ATF), were both involved with the SWAT paramedic training; and the head of the FBI SWAT team was also the head of the Houston FBI's "Russian desk" that had it out for Charlie over the spy incident.
The prosecution of Williams, in which Charlie cooperated, resulted in Williams getting 10 years.  However, the U. S. Attorney and the FBI still went after Charlie, claiming he should not have transferred the flash bangs. Despite his innocence, his attorney told him that under the statue, which was very vague and ambiguous, there was nothing that could be done, so he pled guilty.   Charlie was convicted of the Federal felony of "unlawful transfer of a firearm"; however, he received no jail time or fine.
Immediately After his conviction, Charlie was told by the U. S. Attorney that his conviction was his "present from the FBI", referring to the spy incident. In addition to the retaliation by the FBI, Charlie's defense attorney was critically injured in a motorcycle accident out of state. Charlie was unaware that at the same time, a similar case was on-going in another state (U. S. vs. James v. Vest).   In the Vest case, the Federal Courts ruled the statues "as applied for law enforcement purposes" were unconstitutionally vague and contrary to the intent of Congress, and were not to be used against law enforcement personnel for doing their job:" Charlie's lawyer's accident left him unable to withdraw his plea.
This was a favoritism-retaliation between the FBI Supervisor of the Russian Desk and the US attorney, because the supervisory FBI agent should have lost both his job at the "Russian Desk" and should have been relieved as the Team Leader of the SWAT team as the result of William's multiple shenanigans.
Charlie was now a convicted felon and his law enforcement days were over.  He immediately sought a Presidential pardon, but was unsuccessful, although it was never denied.  Charlie now had to figure out how to make a living, and had an interest in entering the renewable energy market.  In 2006, he had started a venture to produce a vertical shaft wind turbine.  In 2008, Charlie and the University of Texas aerospace engineering department began multiple senior engineering-class projects, and he was successful in getting his project into a unique working wind energy system.  Once Charlie had a sellable product a friend began marketing the 50 KW wind turbines in Mexico.  First, his friend brought an electrical engineer to review the product and see it functioning, and he began to make presentations to several government entities and companies in Mexico.
Charlie lived in Jonestown, Texas near Lake Travis in Travis County, and knew several of the local City government officials.  Charlie was the city's volunteer grant writer on a proposal for a U.S. Department of Energy Grant, which the city applied for, and was awarded with the grant specific to Charlie's type of technology. The Grant was for $1,800,000.  At the time of the submission of the grant, he was the owner of the technology and only a minority shareholder in the wind energy company.  The president of CM Energy and the Mayor of Jonestown then signed all of the grant contracts and agreements to produce 18 wind turbines. At the time of the signing of the contract, Charlie was neither an employee of the City, nor of the wind turbine company.
Two of the Company's part-time employees were also law enforcement officers; persons of pubic trust. Travis County Sheriff's Deputy, Toby Miller, and Jonestown Police Officer, Michelle Cooke, were caught falsifying their grant and respective department timesheets. Charlie was traveling back from a site visit for a wind turbine project in Sonora, Mexico, when the Grant Project Manager brought to Charlie's attention that the employee was falsifying time sheets to the Grant, which was subsequently confirmed by the City Administrator.  Upon his return to central Texas, Charlie had the employee fired.  Miller was also a friend of the Travis County DA Investigator who convinced her that the wind turbines were not ready for construction yet, and that Charlie had committed fraud by signing the contract to deliver the turbines.
This information was also given to the U. S. Department of Energy, and the Enforcement Division of the Texas Comptroller, who investigated and both agencies said, "There was NO crime."  At this time about half of the 18 turbines were built and in place, and the parts and bases for the remainder were either built, in the warehouse in Taylor, Texas, already on site, or on order. The grant money was all spent on the project for which it was designated to be used.
 Around this time, Charlie took his motorcycle to the Austin Harley Davidson service center for some work. Fortunately for Charlie, he took it on his trailer because, one of the senior mechanics at the shop noticed that the front tire had parallel slashes that were obviously made intentionally, and he called Charlie to tell him that someone was trying to kill him.  The mechanic provided an affidavit in March 2016, along with the invoice from when Charlie bought a new front tire.
Unsure as to whether they could secure a conviction, but having indicted and un-indicted Charlie multiple times due to lack of evidence to prosecute, the DA's investigator was told that Charlie "had guns" at his friend's house, which were locked in a safe. Under the threat that the DA was going to use explosive to blow up the safe his friend's house if he did not cooperate, Charlie confirmed the guns were being stored in the friend's safe.  Unbeknownst to Charlie, the DA had already ordered that they use explosive devices in the raid on his friends house causing over $30,000.00 in damages!  To embellish Charlie's "criminal description", the DA investigator told the raid team, that Charlie also wore "gang colors' referring to his motorcycle vest. The patches and pins on the vest are in reality military pins and patches dating back to Vietnam era, Coast Guard and police- related. (See photos of the vest on the Photographs and Court Documents)
Subsequently, Charlie was convicted in Federal Court on the charge of "Felon with a Firearm" and was sentenced to 30 months in a Federal facility.  It was later brought out in a Federal Hearing on 1 October, 2014, a year after Charlie's State conviction, not only was his State prosecutor, Holly Taylor, out playing investigator months before there was any meaningful probable cause, his first State attorney, Daniel Wannamaker, was reckless and negligent in letting the Travis County DA destroy exonerating evidence BEFORE trial,  and that the Federal prosecutors and the FBI withheld critical exonerating evidence from Charlie a total of 13 times before his Federal conviction.  Prior to the State trial, the Travis County DA offered him a 2-year concurrent sentence if he would plead guilty on the State fraud charge, but Charlie refused.  He went to trial and received 15 years on the fraud charge, which was enhanced due to the federal charge.
Immediately after Charlie's State conviction, information came to light by two separate attorneys, that Charlie's State trial Judge was allegedly bribed for her decisions, ruling and orders against Charlie. Formal criminal complaints have been filed with the State Commission on Judicial Conduct, the Director of FBI, and US Attorney General Civil Rights Division, Criminal Section.
OCTOBER 2, 2018: 
A WONDERFUL thing happened to Charlie on his way home today. Charlie stopped by the Commission on Judicial Conduct.  Amongst many things he learned today is the fact in a Judicial Misconduct there is no statute of limitations!  So, now having been to the State Bar of Texas and now the Commission on Judicial Conduct in the last two weeks,  he  has direction, and he is looking forward to doing his  best to fix an egregious miscarriage of justice.  According to Charlie, "While I cannot undo what was done, my trust is in the Lord to see the detestable public servants responsible for this are unable to injure anyone else, and those injured will truly begin to heal.  Please pray for God's Will, Charlie, and those injured in this mess.
It is also now clear that Charlie never needed to get a signature for leaving the flash bangs when he was called to Active Duty.  Case law and statues makes it clear that uniformed military are authorized to train government law enforcement and that the transfer was with the inherent authority of the manufacturer, the city, and the Coast Guard.
In addition, Charlie has now  hired Mr. Gary Udashen of Udjashen  Anton, Dallas, Texas,  but the cases are  complicated and complex  and Charlie is still  going to need money to keep this competent legal team to help fight this wrongful conviction.
COURT DOCUMENTS AND PHOTOGRAPHS
Court documents, photographs of the wind turbines and spy photographs, and other supporting documents can be seen on the Photographs and Court Documents page. Please donate to help us raise the needed funds to assist Charlie in keeping his conflict-free legal team.
Thank you for your support!
TIMELINE:
 JANUARY 2, 2019
Today, Charlie filed a formal Bribery complaint against his trial Judge, Travis County 299th District Judge Karen Sage, with over 3.65GB of photographic and documentary evidence supporting the allegation

 January 28, 2019
On January 27th while going through court documents, Charlie found an Agreed Motion to Produce Evidence demonstrating a recording involving City of Jonestown officials and employees of BABECO, his metal works fabricator, existed.  According to the lawyers in this case, this recording is of a conspiracy to set Charlie up.   Charlie hand delivered and filed an Amended Complaint with Exhibit 8 with the Commission on Judicial Conduct.  Charlie obtained a Certified Copy of the motion from the District Court Clerk and it is attached to the Amended Complaint document linked herein.
As it is in the PUBLIC INTEREST to expose egregious government misconduct, especially when it involves the cover up of Attempted Murder, the Destruction of a Federally Funded Wind Energy Project and an Obstruction of Justice covering up a Bankruptcy Fraud, should this tape be found to be what is claimed by so many lawyers, who are also officers of the court, Charlie will make it public.
FEBRUARY 5, 2019
Between January 28th and February 5th, Charlie came into possession a copy of the infamous BABECO TAPE.  This recording is approximately 31 minutes long and is very clear, Jonestown City Maintenance Supervisor, James Herrera, was over at BABECO, representing the City of Jonestown and offering to pay Charlie's former employees and subcontractor up to $1.2 Million after Charlie and his co-defendant had "…take the fall" to complete the project.  This recording substantiates the FACT Charlie's Wind Energy Systems not only worked but he had everything CM Energies needed to complete the grant on time!
This recording also substantiates Jonestown Mayor Deane Armstrong's MOTIVE to pay someone (in this case, Armstrong's self-admitted, "BEST FRIEND," Texas State Senator Kirk Watson) to criminally interfere and illegally influence the trial judge, Karen Sage to rule against Charlie every step of the way.  In addition, when examining the Travis County Precinct Voter Registrations and Election Results, Armstrong and the City Council members, improperly and as part of the bribery scheme, illegally influenced Jonestown and surrounding Travis County voters to vote for Sage in her upcoming re-election only two weeks past Charlie's conviction.  See Exhibits in Court Documents
FEBRUARY 6, 2019
Charlie notified his state parole officer, via email, Seranang Omaleko that he filed an amended complaint against Sage (included in his email), which included a 30 minute recording that not only was he set up, but his windmills worked.  In that email Charlie also informed Omaleko that he intends to hold every parole commissioner, member and officer engaged in this ONGOING RETALIATION and DEPRIVATION OF RIGHTS UNDER COLOR OF LAW, accountable.
FEBRUARY 6, 2019
Charlie notified his Federal Probation Supervisor informing her that he not only filed an amended complaint against Sage (included in his email), but that his BAD FAITH Federal case was not over as well
FEBRUARY 7, 2019
Neilyn Navarro, TDCJ, attempted to "RECALL: EVIDENCE OF WRONGFUL CONVICTION TO GO INTO MY PAROLE FILE setting the stage for MORE TAMPERING WITH GOVERNMENT RECORD and OBSTRUCTION OF JUSTICE!
March 12, 2019
FINALLY, we are able to upload the BABECO TAPE!  At approximately 17 minutes in, Jonestown Maintenance Supervisor, James Herrera, makes it clear that Charlie and his co-defendant will have to "take the fall".  What is more concerning, is the City of Jonestown is willing to commit $1.2 Million to finish the project.  NO ONE invests $1.2Million in a project they know wont work!!   Charlie's Wind Energy Systems WORK!!  The City Council for Jonestown knows this! Charlie's former employees and subcontractors know this!!  And, the Travis County District Attorney knows this!!    And, if Daniel Wannamaker heard this audio or was told of its contents, he too knew this and RECKLESSLY FAILED TO ACT!!  This audio is that much more MOTIVE for Daniel Wannamaker and Jonestown Mayor Deane Armstrong to PAY to secure wrongful conviction!!!
AUGUST 5, 2019
Texas Rangers, Major Shiver, received Charlie's Formal Bribery Complaint, per instructions from Commission on Judicial Conduct Investigator to, "Go get a law enforcement finding and we will immediately DISQUALIFY her!"
AUGUST 6 AND 9, 2019
Charlie went to the State Capitol to garner assistance from several Senators and Representatives to monitor Ranger investigation.  
SEPTEMBER 9, 2019
Charlie found 2 eyewitnesess who can testify that Mike Fox furthered the Conspiracy (listen to the BABECO TAPE) to Defraud the United States, secure WRONGFUL CONVICTIONS, and cover up 37 other FELONY CRIMES by Deane Armstrong, the Jonestown City Council and others, by driving to St. Louis, picking up a motor (see photos), returning to Jonestown, installing it in one of Charlie's windmills and getting it to work!!!!    Travis County District Attorney Margaret Moore was previously served NOTICE OF CRIMINAL CULPABILITY, USPS Cert. Mail No. 7014 0510 0000 1587 5345, and to this day she STILL is withholding ADDITIONAL EXONERATING EVIDENCE from Charlie!
APRIL 18, 2020
Robert Calhoun, President, Threat Mitigation Services, LLC, http://www.threatmit.com a Maryland based Threat Mitigation and Analysis Service contractor completed a 30 page Federal Case Review with Enclosures. The Summary:  "A Presidential Pardon should be awarded to Charlie and the case then retried or simply dismissed…"  
 WE NEED TO EXONERATE CHARLIE!!!   Please contribute to Charlie's GOFUNDME Legal Fund!  THANK YOU for your consideration and generous support!!!!
 "While the law is free to promote all sorts of conduct in place of harmful behavior, it is not free to interfere with speech for no better reason than promoting an approved message or discouraging a disfavored one, however enlightened either purpose may strike the government." Hurley v. Irish Am. Gay, Lesbian, and Bisexual Group, 515 U.S. 557, 579 (1995). Turner Brdcst. Sys. v. FCC, 512 U.S. 622, 651 (1994). See also Brady v. Maryland, 373 U.S. 83 (1963) "…the prosecution's suppression of evidence violated the Due Process Clause of the Fourteenth Amendment."